Living in Pedasi one of the things you look forward to is seeing the humpback whales in Panama. A couple of weeks ago I went to Playa Arenal to celebrate Earth Day and there was a stand by the Ministry of Environment. They told me that they were already monitoring the humpback whales in Panama since the end of March. This government entity is not the only one monitoring whales, so is the Smithsonian Tropical Research Institute that has a base in Panama.
The Smithsonian helped the country of Panama to create legal guidelines prohibiting activities that disturb whales. There is a Marine Corridor Commission that oversees these regulations which seek to keep protocols for responsible whale watching. Irresponsible actions can cause whales to change their behavior which may even cause them to go elsewhere. And since we want humpback whales in Panama then we better take care of these gentle giants.
Responsible guidelines for whale watching in Panama require to keep a distance of 820 feet from whales. No more than two boats may follow a group of whales and these boats must run parallel to whales. Boats need to go slower than the slowest animal in a group. 30 minutes is the maximum time for seeing whales if they are adults and only 15 minutes is allowed if there is a calf in the group. Swimming with whales is not permitted. If you are lucky you may see a whale shark when scuba diving in Panama's Pacific Ocean.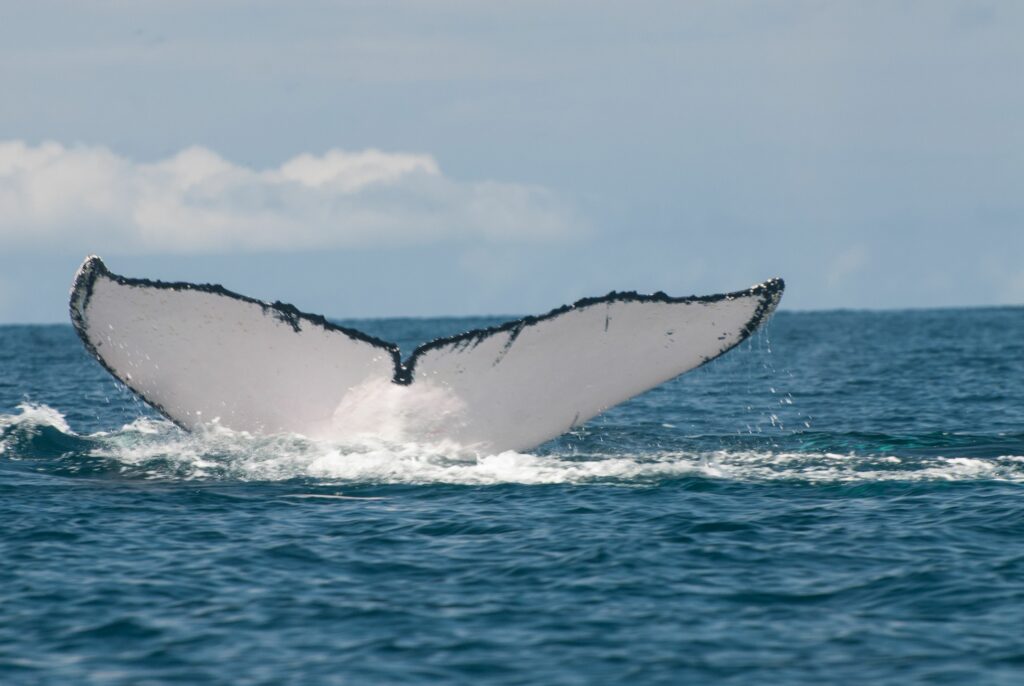 Humpback Whales in Panama Tour
Humpback whales that come to Panama and Costa Rica migrate from Antarctica and Chile. They feed there until the end of summer and they start their voyage north around March. Going from south to north can take between 50 to 70 days. This route covers around 16,000 kilometers. The time it takes depends if they are adults in the group or if they have calves. Without babies they can travel around 130 kilometers per day. Mothers with their offspring can travel between 45 and 100 kilometers daily.
When can you see humpback whales in Panama varies each year but the general time frame is between July to October. They can be seen as early as June and stay up to November. Humpback whales come to Panama to give birth. Babies don't have much body fat and cannot endure the cold waters of the Antarctic. They learn how to swim and start growing in our tropical waters!
It is possible to see humpback whales in several places in Panama. Those that visit Panama City can do a whale watching tour in the Pearl Islands. It is also possible to see them as close as Taboga Island. Other places where you can see them are the Gulf of Chiriqui, Darien, Coiba National Park, Cebaco and Gobernadora Island. There is a secondary whale watching season in the Gulf of Chiriqui from January through March when the humpback whales migrate to Panama from the east coast of the United States and Canada.
Our favorite place to see humpback whales in Panama is our home: Pedasi. You can take a whale watching tour by Isla Iguana which is a wildlife reserve of 651 hectares and a very popular place to go for the day since it has beautiful white sand beaches. Humpback whales love these calm waters and you can usually see them while crossing to the island so you can combine this tour with a beach day or a fishing trip. We also offer whale watching tours in Cambutal which is about an hour and a half from Pedasi.